Uncategorized
CELEBRATING A MILESTONE: 1 MILLION L300 MODEL UNITS SHIPPED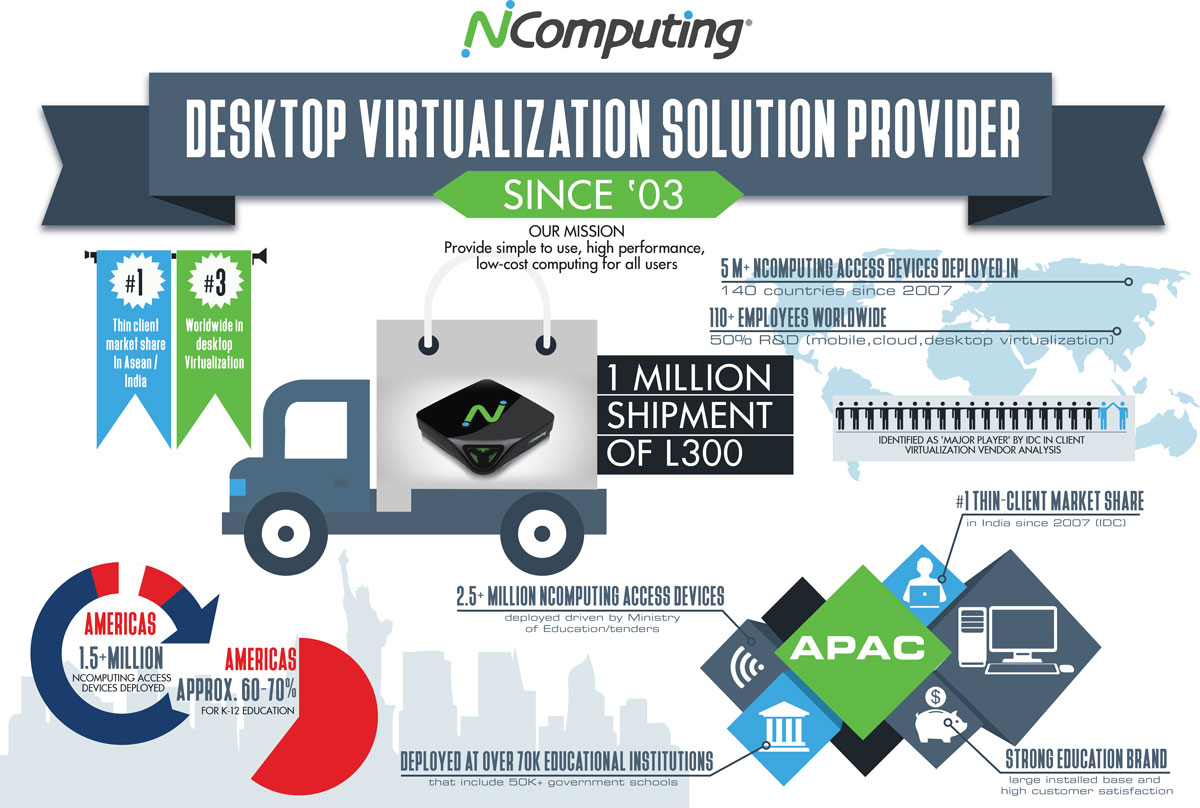 Today, we are very excited to share with you that we have shipped over 1 million L300 units to date. We originally launched the L300 product line in 2010 and since then it has provided a low cost, powerful solution for desktop virtualization to users like you. The L-series product line was first launched in 2004 with the L100. Additional models such as L110, L120, L130, L200 and L230 soon followed. However, the L300 has been our most unique and successful model.
The L300 model was a result of a discussion internally around how we can enable IT managers to utilize the unused computing resources of a powerful PC, and make it available to up to 100 users at the same time.
The L300 has been designed with our own proprietary SoC (system-on-a-chip) called "Numo™", an ARM processor and solid cover shock resistant shell., These features allow the L-300 to withstand humidity and to overcome the standard PC issues such as boot failures. Over the past 5 years, the L300 has provided value to its users by being incredibly stable with just a 0.2% failure rate in the field, giving them an amazing return on investment.
Today, when a solution is built to meet your user's needs currently; it is quite likely to not be relevant to them in the future. But L300 has proved otherwise. The foundations on which L300 is built have never been modified, a testament to a solution, which has withstood quick changing environments in IT. With just the upgrade of the host computers an entire IT infrastructure can be updated,
Whether you are playing a high-quality full-screen video or looking to provide a virtual PC desktop experience to your users, the flexibility of working in different types of environments has made L series consistently popular among you all. With IT managers facing budget constraints and having to make the best out of the available resources, they have liked the ease with which they are able to deploy L series and start using the vSpace management tools.
What's keeping us busy?
NComputing's L-series products have sold in excess of 1.8M units over the last 10 years. We remain extremely committed to continuous enhancements of NComputing's vSpace software this commitment shown in our upcoming vSpace Pro 10 – bringing the power and flexibility of Cloud computing to our customers.
As mentioned in our last blog 'Coming Soon: vSpace Pro 10' since summer of last year, we began the endeavor to bring you our next generation desktop virtualization solution, vSpace Pro 10.
This software has been designed with feedback from you in mind and will make desktop virtualization more simple and more affordable, with great features to make it even more powerful.
Source: NComputing